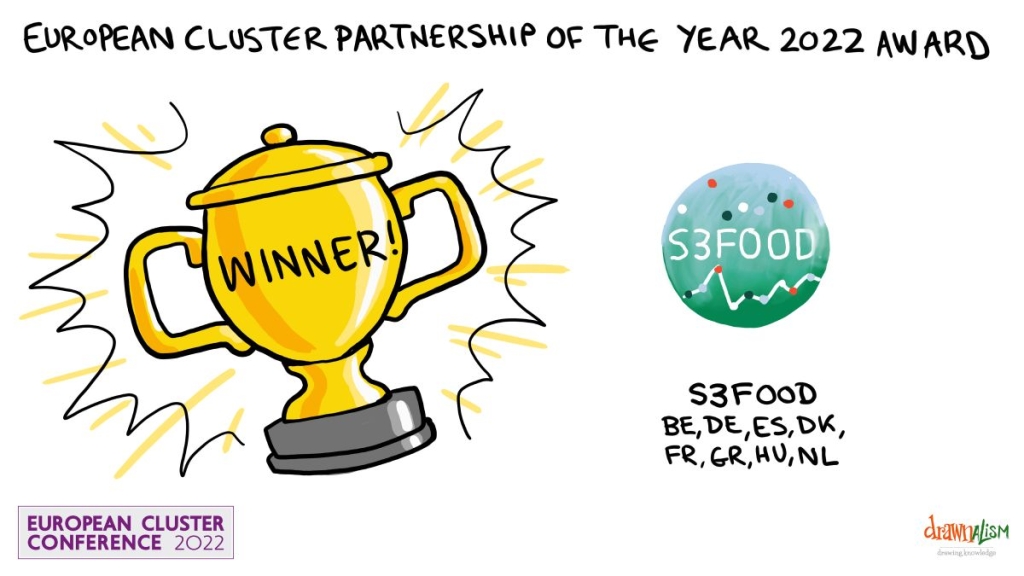 Digital innovation champion S3FOOD wins European Cluster Partnership award
Consortium recognised as an agent of positive change for Europe's hard-pressed food industry
The European S3FOOD consortium has demonstrated that powerful digital technologies can overcome pressing challenges in the food industry. Its major achievements were recognised this week when the consortium was hailed European Cluster Partnership of the Year.
S3FOOD was one of three nominees for the award, which celebrates the contribution of cluster partnerships to impactful positive change in their target industry. Project coordinator Veerle De Graef accepted the accolade on behalf of the consortium at the European Cluster Conference in Prague.
"This is a well-earned recognition of the work we have been doing over the past three years. It is also an encouragement to continue the good work. That is exactly what we are doing through the Smart Sensors 4 Agri-Food partnership, where we already have exciting new projects in the pipeline," she said.
Urgent need for digital tools
Comprising 13 partners from eight European countries, S3FOOD was launched under the EU's Horizon 2020 programme in 2019 to drive the digital transition of small and medium-sized food processing companies.
Since then, rising energy prices and the post-COVID labour shortage have bitten hard, escalating the urgent need for digital automation and monitoring technology to optimise food processing efficiency and cut costs. Traceable systems that maximise food quality and safety, eliminate food fraud and ensure timely plant maintenance are also critical to building a resilient and sustainable food supply chain for the future.
Securing the food industry
"Major events such as the war in Ukraine are putting even more pressure on food manufacturers to manage costs while ensuring the safety and quality of their products. S3FOOD's key objective has been to facilitate the development of smart sensor technologies and data management systems that can relieve this pressure and secure the profitability of Europe's food processing SMEs," De Graef states.
The recent S3FOOD final event in Brussels gathered representatives from industry, academia and the EU to celebrate the successful completion of 58 digital innovation projects which, together, have received more than €2.8 million in funding. More than 500 food SMEs and digital technology providers have benefited from S3FOOD coaching, training and study visits to living labs.
Under the heading 'The future of food is digital', the final event further highlighted the work of the Smart Sensors 4 Agri-Food partnership, which will continue to drive the digital transformation journey beyond S3FOOD. Two new EU projects are already on the horizon ­– Food-scalEUp and HIGHFIVE.
Find more information about the projects funded by S3FOOD here.