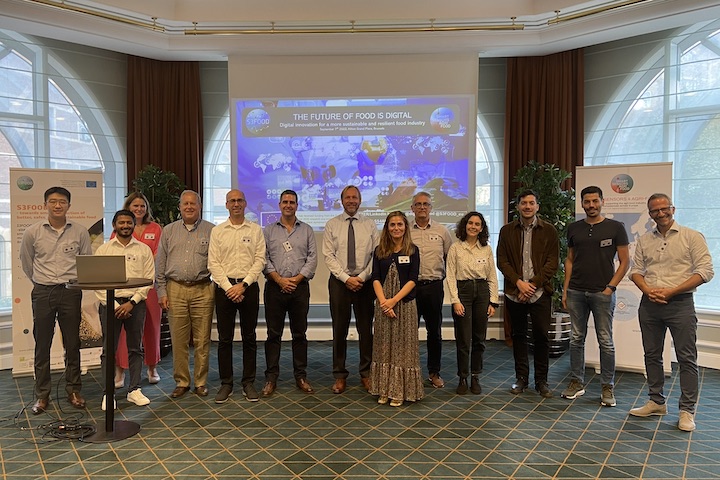 The future of food is digital
The S3FOOD final event was held in Brussels on 7 September 2022 – marking the end of a project, but not the end of the journey
S3FOOD has facilitated a gold mine of digital innovation over the past 40 months. At the consortium's final event, representatives from industry, academia and the EU joined the celebration of 58 completed projects which, together, have received more than €2.8 million in funding.
Each project has contributed to the digital transition of the European food processing industry, which is key to becoming more sustainable and resilient.
"S3FOOD set out to solve concrete challenges that the food industry is facing – challenges like resource efficiency, higher quality and, nowadays, also the energy crisis. We have provided coaching, training and support for more than 500 European SMEs, comprising food companies and digital technology providers," says project coordinator Veerle De Graef.
More than 300 applications evaluated
Interest in S3FOOD has been high. During the two funding rounds, the consortium's 13 partners received and evaluated more than 300 applications. The quality was so great that the partners soon had to revise their scoring system, raising the minimum score for successful applications from 70% to 90%.
Nine of the successful SME applicants presented the results they achieved with S3FOOD funding at the final event.
All SMEs agreed that S3FOOD had provided invaluable support. During the SME panel debate, a key topic was how their results could be shared more widely, perhaps via an open source platform for digital food process management tools.
"I've been honoured to be project advisor for S3FOOD. Today I'm here to congratulate you on
the great results and to say a big thank you to all members of the consortium for your motivation."
Milena Stoyanova, project advisor, EISMEA
Takeaway messages and future projects
The afternoon proceeded with a presentation of the innovation eco-system and living labs, which are the first stop for testing digital solutions. Then it was the turn of Orsolya Szaplonczay from Innoskart Digital Cluster to present the key takeaway message from S3FOOD – that there is a need for continued financial and technical support for food processing SMES based on long-term European strategies. This has been underlined by the COVID-19 pandemic and war in Ukraine, which have highlighted the food industry's vulnerability.
It was a well-timed introduction to the final points on the day's agenda, which looked to the future of digital innovation beyond S3FOOD. With two new EU projects about to start up – Food-scalEUp and HIGHFIVE – and the continuation of the Smart Sensors 4 Agri-food Partnership, Europe's food processing SMEs and digital technology providers will still find plenty of support as they continue their digital journey.
"S3FOOD has come to an end, but the digital transformation journey of the food industry has not.
We will continue in the Smart Sensors 4 Agri-food partnership and use the lessons learned from
S3FOOD in future projects."
Veerle De Graef, S3FOOD project coordinator
See a selection of pictures from the event below