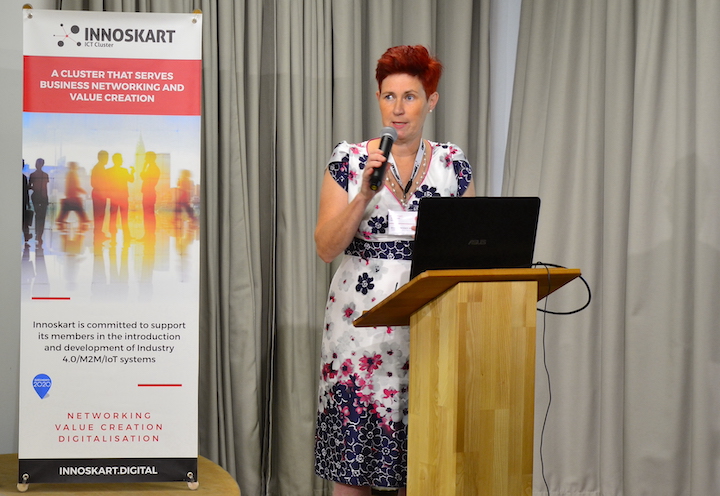 S3FOOD partner becomes digital innovation hub
Innoskart gains new title and new opportunities to boost the digital transition of European food SMEs
A smart data management system that maximises food processing efficiency and uptime is just one of the S3FOOD projects facilitated by Innoskart Digital Cluster in Hungary. Now, after 13 years of supporting SMEs in the Central Transdanubia region, the organisation has earned a place on the map as a designated digital innovation hub (DIH) in Europe.
"We have been able to show that we meet all DIH criteria, such as obtaining funds for SMEs, providing coaching and boosting innovation in our region," says Orsolya Szaplonczay, managing director at Innoskart.
"We wouldn't have been able to get here without S3FOOD and the funded projects. Here in Hungary, participating digital technology developers and food processing companies have really experienced that there is something in it for them."
Facilitation at work
The S3FOOD-funded FEB project, driven by Reach Solutions and Robot-X is one example of facilitated innovation at work (see the short video below). Installed at GoodMills Hungary's packaging plant, the project's smart data management system has proven so successful that GoodMills has placed a further order.
Now SMEs can expect even more targeted support in the future.
"As a DIH, Innoskart has gained access to additional funding possibilities. Recently, we received funding under the Horizon 2020 SmartAgriHubs project, which is a consortium of more than 160 partners in the European agri-food sector," Orsolya explains.
Cross-border collaboration
Innoskart has also joined the ranks of DIH-World, an initiative to accelerate the digitalisation of European manufacturing SMEs across all sectors.
"The role of DIH highlights the opportunities for cross-border collaborations. For us at Innoskart, it widens our European network and visibility, helps us bring success to the Hungarian market and provides new funding possibilities – which is particularly important to us as a private organisation."
About digital innovation hubs
DIHs are one-stop shops that help companies become more competitive by providing access to expertise, technology, business support and financing that boost digital innovation. Each DIH is a regional multi-partner collaboration that may include research & technology organisations, universities, industry associations, chambers of commerce, incubators/accelerators, regional development agencies and governments.